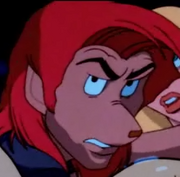 It has long been speculated what "race" Omar is, People say he could either be a rat or a dog.
Personally, I believe he is a dog. Alot of my friends also agree, and here is why;
It appears that the rats has much longer snouts then Omar .
Dogs have small ears which are sometimes pointed.
Rat's ears are usually large in size.
Rats seem to like showing their teeth, usually doing it alot of their teeth just always show.
Rat's noses are usually covering the whole tip of their snouts, unlike Omar .
Like Dizzy , he has a short snout, small ears ( Even if they aren't exactly the same, its just being used as an example! ) and their teeth don't always show.
Omar's snout isin't as short as a dog's or a cat's snout.
Omar's nose is diffrent from the other dogs and cats.
His ears are also diffrent from others.
If he is thinking or staring off into space, he usually shows his teeth.
There is a reference on a site called deviantART which shows that Omar is a rat, and also makes a fairly good point he could possibly be a rat.